At SeaGL this year (starting in TWO DAYS!!) we are so excited to welcome Bradley Kuhn and Karen Sandler from the Software Freedom Conservancy! They'll be recording a live audio podcast and taking a few questions from the audience. In advance of their podcast recording, they've answered a few questions for us to get us all EXCITED for the live recording of Free as in Freedom, which you can attend Saturday at 3:45pm in room 3183!
What can folks expect from this episode of your podcast?
Karen and I have been doing our podcast, Free as in Freedom, semi-regularly since 2010 – nearly ten years! This will be our very first live episode. We hope to interact with the crowd and get questions from everyone.
We encourage folks who haven't heard our show before to listen to a few episodes by visiting faif.us and get a sense of our podcast. We'll be accepting written questions ahead of the show (find me and Karen for index cards to give us questions!), as well as questions from the audience during the show.
We do the podcast because there are very few podcasts that do in-depth discussion of policy issues around software freedom. This is the primary area we work in, so we try to make a show that can get deep into issues and consider the complex topics that face Free Software today.
What do smaller conferences (like SeaGL!) offer for FLOSS communities?
We've made a commitment to send a large part of Conservancy's staff (the two of us, plus Deb Nicholson) to SeaGL because even though it's small conference, SeaGL and events like it are exactly the types of events we need more of to promote software freedom.
These events are run by the community for individuals, not by big corporate interests. That means that there is no corporate agenda: the goal is to help attendees learn more about software freedom and become a part of the community using that software. We really appreciate the efforts of all the organizers to make this conference a success.
That said, what's your favorite mid to large size open source conference and why?
FOSDEM is the obvious answer, because it is by far the largest run FOSS conference in history. With more than 4,000 attendees each year, FOSDEM is the main event each year, and it's amazingly run by all volunteers! So, FOSDEM is what a community conference can become as it grows. While we wouldn't expect SeaGL and other events to grow to this amazing size – FOSDEM is really unique – but we're really glad for any event run by volunteers rather than companies and trade associations.
What's a FLOSS project under the Software Freedom Conservancy that deserves more attention?
Some of our most essential work is Conservancy's GPL enforcement work – whereby we work with many projects including Linux, BusyBox, Samba, Inkscape and others – to assure compliance with the GPL family of licenses. Particularly with regard to small Linux-based devices, we see an overwhelming need for a watchdog organization that assures the software freedom guaranteed under copyleft licenses like GPL. Conservancy is one of the very few organizations that focuses on the rights of users who receive these devices. We fundamentally believe that the next generation of inventive activities with FOSS will come from people using the source code of their devices to do new and interesting things with those devices. By assuring GPL compliance, we put the tools in the hands of the next generation of hacktivists who want to build community-oriented software.
---
Thanks Karen and Bradley!! See you Saturday at 3:45pm in room 3183!
---
SeaGL 2019 is in four days! So let's give a quick wrapup on those keynotes!
On the first day of SeaGL 2019, Friday 15 November 2019, we have two AMAZING keynotes! Come on in to the Theater starting at 9am for the Friday conference kickoff. We'll get started with announcements and welcome at 9:15, then begin with our first keynote, Lisha Sterling, going at 9:30am.
Lisha's keynote is titled The Cost Of Freedom and she'll be sharing lessons of proprietary versus non-proprietary software, power structures, and grassroots organizing. Lisha's pronouns are she/her.
Next up we have Abigail Cabunoc Mayes at 10am! Abby comes to us from Mozilla and shepherding hundreds of open source projects, and she'll be talking about the principles of open leadership and intentional openness in the design of future projects. Her talk is called Open by Design: Learning to Lead Openly. Abby's pronouns are she/her.
Saturday we'll be off to a strong start with Benjamin Mako Hill, a.k.a. just "Mako", with How markets coopted free software's most powerful weapon, a discussion of commons-based peer production projects and the impact of the private sector monetizing these, and what it means for those of us committed to working in commons. Mako's pronouns are he/him.
Finally, on Saturday we are honored to present Sage Sharp. Sage has had an amazing career in countless facets of open source, and is here to share their talk, Countering Impostor Syndrome Culture, discussing how we can support one another and change our culture that creates and perpetuates impostor syndrome. Sage's pronouns are they/them.
---
SeaGL is a great annual free software conference in Seattle. The 2019 schedule is ready for perusal. Like most community run conferences, SeaGL offers many extra features aside from excellent keynotes, conference talks and tutorials.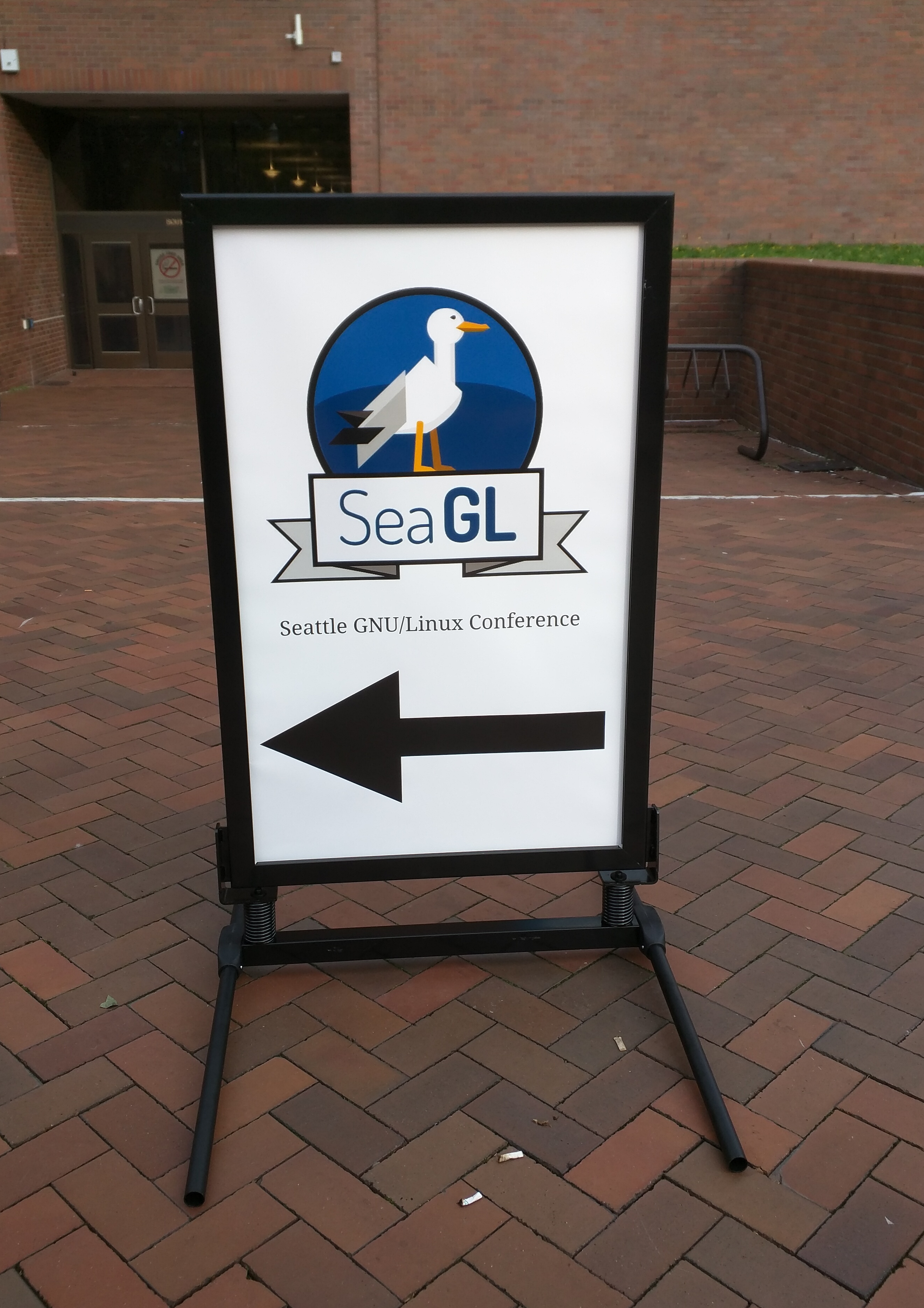 Now in it's seventh year, SeaGL even added two new features last year: TeaGL and daycare.
TeaGL is the SeaGL Tea Swap, offered during the Saturday afternoon break. Participants are encouraged to bring some favorite teas to share and discuss with others. Hot water is available to try teas on the spot.
Last year a sponsor wanted to provide daycare at the conference, so SeaGL added a new feature. The sponsor paid a commercial daycare service to come in both days. Daycare is one of the few SeaGL activities that required non-anonymous registration to attend SeaGL.
SeaGL volunteers work to respect the privacy of attendees ( email participate@SeaGL.org to volunteer ). Registration and conference participation are as anonymous as practical. Attendees don't need to divulge personal data or use proprietary software to register. Attendees can even register the day of at SeaGL. The registration table is at the main entrance into the exhibition hall. You can pre-register if you'd like. It helps with attendee estimation.
The exhibition hall has tables for conference sponsors and for community groups. It is also where activities like snack breaks and TeaGL take place.
Some features such as daycare, snack breaks, and complementary lunch depend on organizational sponsorship. There is no registration fee, but SeaGL accepts individual sponsorship. If you or your company are interested in sponsoring SeaGL, please contact the sponsorship committee, sponsor@SeaGL.org.
SeaGL has a strong hallway track where attendees chat with presenters and each other. Conversations take place before and after talks, in the exhibition hall and during social activities such as lunch and TeaGL. The conversations often take place in the hallways of the college, hence the nickname.
Speaking of the college, SeaGL continues to benefit from Seattle Central College's (SCC) generous hosting. The college provides an auditorium for the keynotes, classrooms for the talks and a room for the exhibition hall. SCC also has gender free bathrooms.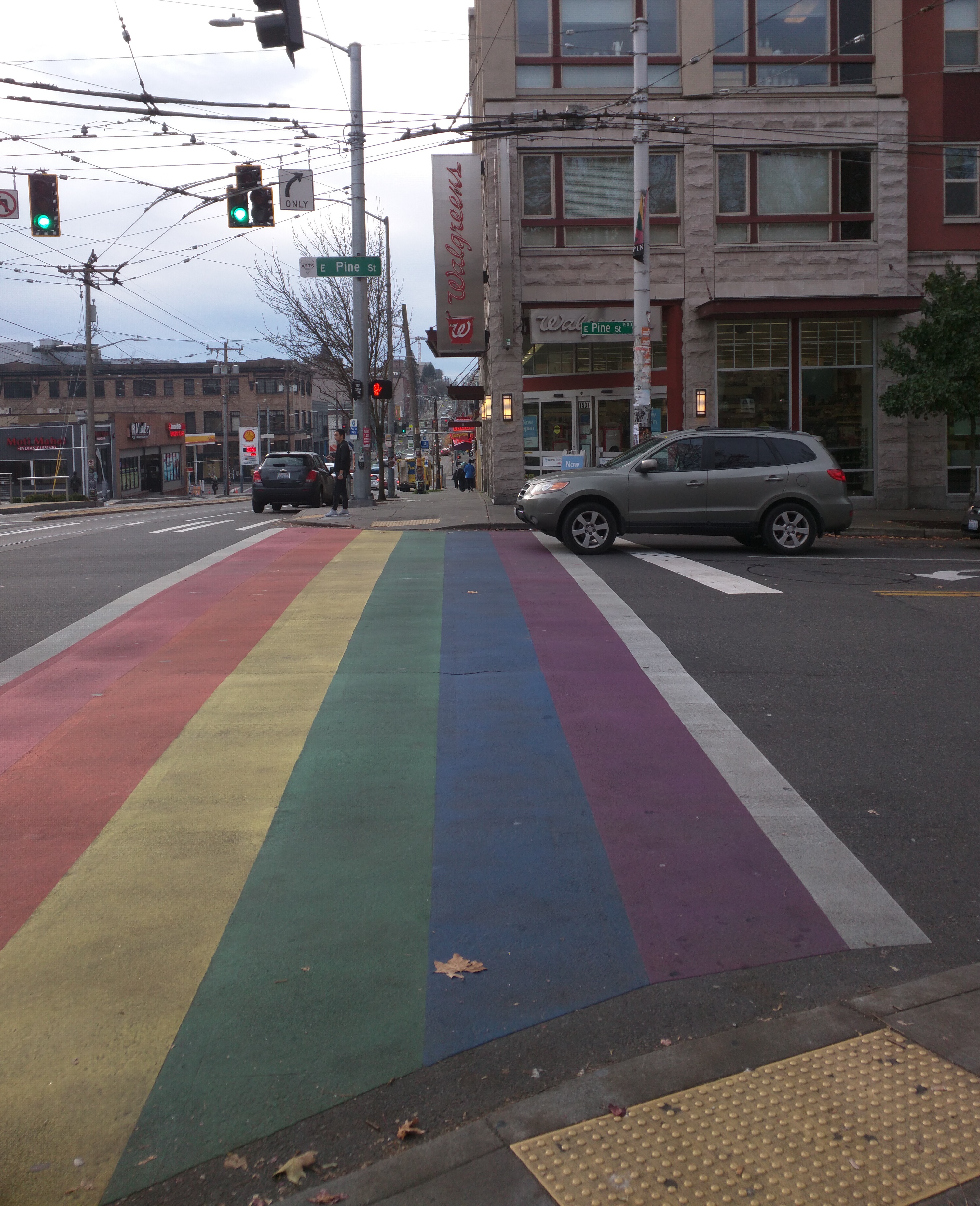 The college is across the street from Seattle's Jimi Hendrix statue. More importantly for the plain text geeks among us, SCC is on Pine St in the pine mail program's home town. The street name has not been changed to Alpine to reflect full free version of the program. Pine Street is easy to spot, just outside the college there's a rainbow crosswalk at Pine and Broadway.
SeaGL wraps up with a conference reception Saturday night. The reception has snacks and drinks. SeaGL makes sure there are vegetarian food options and non-alcoholic drink options. The reception also has awards and a prize drawing. Will you be the one to win the plush seagull this year?
The reception might also have activities such lightning talks, game shows, or even lightning talk karaoke. The SeaGL planning committee has worked the last couple years to have more chat time at the reception, extending the hallway track. Show up to find out what's on the schedule this year.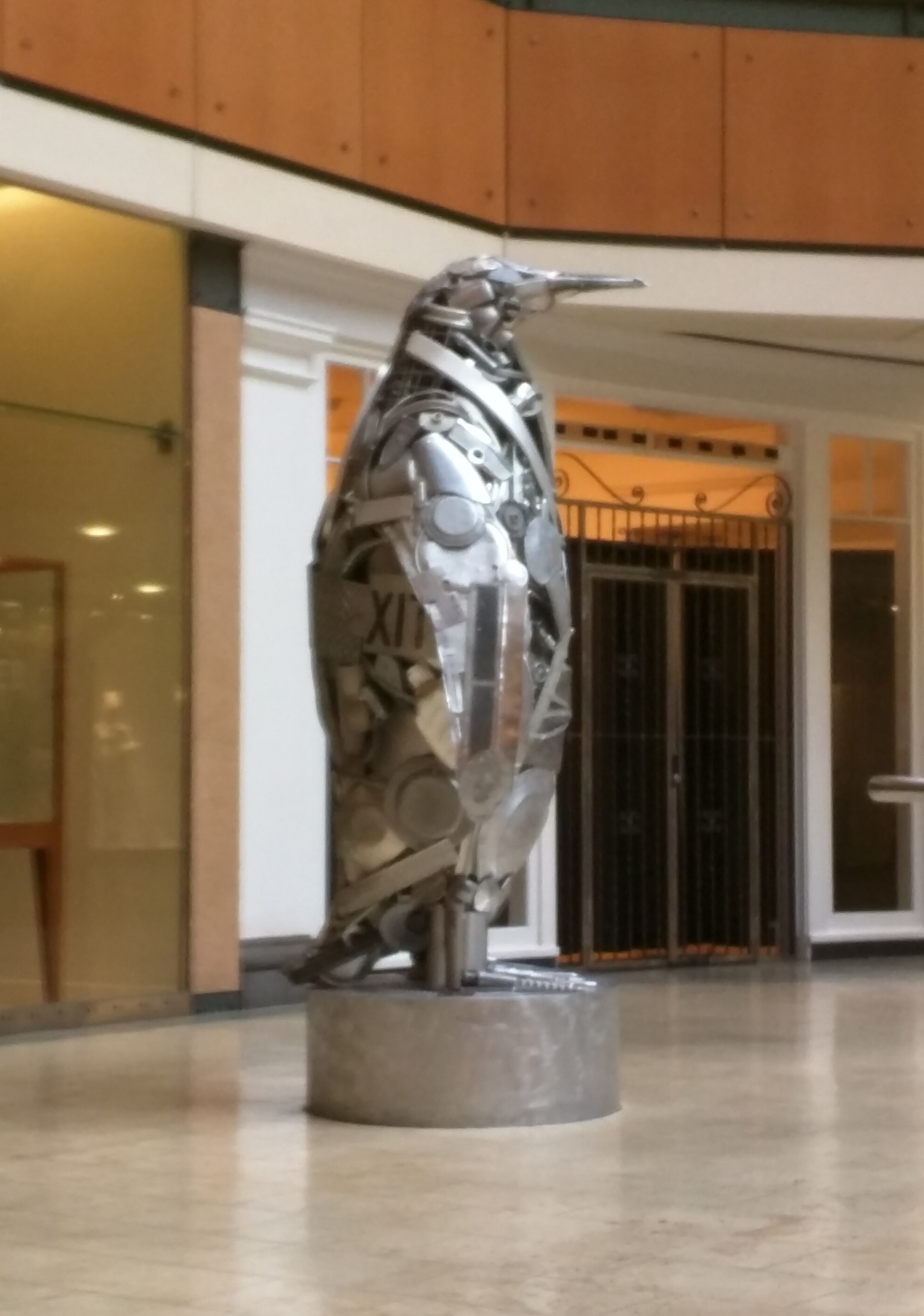 Interested in sponsoring SeaGL, please contact the sponsorship committee, sponsor@SeaGL.org.
If you would like to help promote SeaGL, please contact participate@SeaGL.org. Flyers will be available at Ada's Technical Books and Cafe.
---
SeaGL 2019 approaches!! We are so excited for the conference NEXT weekend, Friday and Saturday, 15 & 16 November 2019! As you know this is our SEVENTH year. Within please find finalized details for the conference next weekend :)
Location First, the ordinary details. The conference is Friday Nov 15 and Saturday Nov 16, 2019, at the Seattle Central College.
The address is: 1701 Broadway Seattle, WA 98122
The location is at the corner of Pine and Broadway, in the heart of Capitol Hill! Here's a link to the map: https://seagl.org/maps/2019.html We'll have signage guiding you in the southern plaza of the entryway. The talk rooms are all on the 3rd floor of the building, there are several stairwells and elevators to get to this floor, and we are printing maps to take and to refer to in key locations throughout our section of the Seattle Central College.
Please find here the schedule.
Keynotes Our keynotes, whom we are so so very honored to welcome to SeaGL, are the following: Abigail Cabunoc-Mayes Benjamin Mako Hill Lisha Sterling Sage Sharp
Childcare Childcare this year is being sponsored by Indeed! Please pop by their booth in the Expo Hall, and find the childcare room in 3199. If you'll be bringing kiddos, please give us a heads up to expect them at onsite@seagl.org.
Food Coffee and tea is sponsored both days by CNCF! Thank you CNCF for keeping us caffienated! We will be buying pizza and salad and will be accepting donations if you care to do so, but ALL are welcome to eat. We were unable to rustle up a food sponsor this year, but if you know a lovely open source adoring company who might want to help us with this for this year or in the future, please email us at sponsors@seagl.org!
TeaGL On Saturday afternoon during the afternoon break, for the tea aficionados, please bring your favorite tea to swap and prepare! We'll have kettles with REAL hot water and milks/sugar, dairy and otherwise. We may have more on this later :)
Code of Conduct SeaGL is dedicated to providing a harassment-free conference experience for everyone, during all days of the conference, including at the evening party after the last talk on Saturday. You can reach us at coc@seagl.org if you are being harassed, notice someone else is being harassed, or have any other concerns.
Please refresh yourself on our Code of Conduct here: https://seagl.org/code_of_conduct.html
Party The party will take place at Sole Repair Shop, a restaurant and bar near the venue. Our two emcees Lucy and Rachel are preparing a night of entertainment for all! There will be some food and one drink ticket per attendee. Kids are welcome! The address is: 1001 E Pike St Seattle WA 98122
Social Media Please use the #SeaGL2019 hashtag when tweeting about the conference, any of the talks, or the party! We post and retweet on Twitter and we'll be on IRC all weekend too, so please join us there if that's your flavor, irc.freenode.net at the #seagl channel. We do not maintain a slack chat and will not be checking the facebook page over the weekend.
So get at us on IRC at irc.freenode.net in #seagl or on twitter @SeaGL or using #SeaGL2019! Can't wait to see you in ONE WEEK!
---
Older News
About
The 2019 Seattle GNU/Linux Conference is scheduled for November 15th and 16th at Seattle Central College (Maps). 9am-5:30pm both days.
You do not need to register for SeaGL - just show up! The cost of attendance is free.
You may attend SeaGL without identifying yourself, and you are encouraged to do so to protect your privacy.
You may optionally register. This gives us attendee counts, which help us raise money for SeaGL conferences. The registration system is Free/Libre/Open Source Software and we promise to protect your data.
SeaGL is a grassroots technical conference dedicated to spreading awareness and knowledge about the GNU/Linux community and free/libre/open-source software/hardware. Our goal for SeaGL is to produce an event which is as enjoyable and informative for those who spend their days maintaining hundreds of servers as it is for a student who has only just started exploring technology options. SeaGL's first year was 2013. The SeaGL web site is built with Jekyll and we use OSEM for event management.
Exhibitors
We will have a small hall available for exhibitors. Free tables will be available for free/libre/open-source software/hardware and non-profit organizations, and there are several sponsorship levels for everyone else. If your organization would like an exhibit table at SeaGL, please send an email to sponsor@seagl.org for our vendor prospectus.
Exhibitor space is limited, please contact us right away if you are interested in a table.
Sponsorship
We can't do what we need to do without the support of the community. If you would like to offer financial support but don't need an exhibit table, please send an email to sponsor@seagl.org.
Donate now
Our fiscal sponsor, Free Software Foundation, set up a donation page to support SeaGL. It accepts credit card or PayPal and provides instructions for donating via check or Bitcoin. Thank you for your support!
SeaGL is dedicated to a harassment-free conference experience for everyone.
Our code of conduct can be found here